NZXT 510 Desktop Gaming PC Computer Intel I5 16GB DDR4 Ram 4GB Graphics Card
All our computers are build to the highest spec with only quality components and professional care. We have given it 3 Year Warranty because we are so proud of all our system we create. We always update our components as they appear on the market, therefore you will receive the system as advertised or even better. Delivery in UK will take 3-5 working by Tracked DPD/UPS Service.
Microsoft Windows 10 Installed and Ready to Run
Specifications:
NZXT H510 White Gaming Case
Intel i5 6 Core (12 Thread)

10th Generation 

CPU
Gaming PRO 16GB

(4 x 4GB) 

DDR4 Ram 3200MHz
NZXT Kraken M22 RGB (120mm) Liquid CPU Water Cooler
NZXT Kraken X63 RGB (280mm) Liquid GPU Water Cooler
GeForce GTX 1050 Ti 4GB 

(HDMI + DVI + Display Port)

NZXT Intel Motherboard
NZXT 650W S

ilent 

Power Supply
Storage - 1TB M.2 PCIe Internal SSD
WIFI Integrated
Operating System - Windows 10 Professional
Warranty 3 Year Return to Base (See Terms Below or Click Here for full details)
Dimensions:
Width - 210mm
Hight - 460mm
Depth - 428mm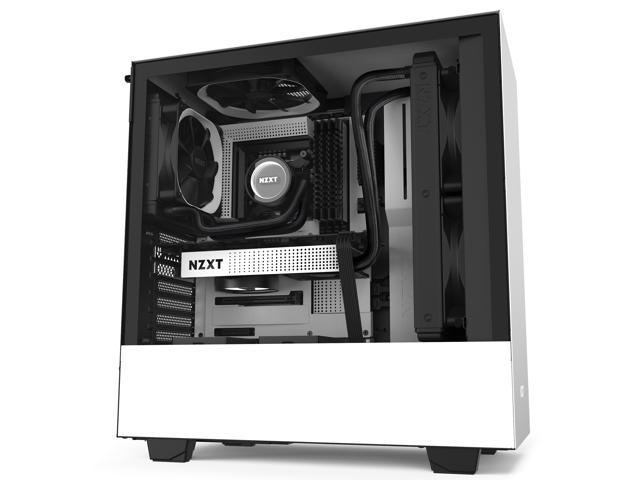 NZXT H510
Mid-Tower ATX Case
The H510 compact mid-tower ATX PC looks stunning and is an excellent value, making it the ideal size when you want a small-footprint ATX case without sacrifice. Well-engineered airflow, removable radiator-mounting bracket, flush tempered-glass window, multiple fan filters and a front-panel USB-C connector are just some of the key features. This makes it an affordable working desktop system with components and features from high end computers. It is more minimised and compact, but still running with enough power to run all day with smooth cooled down air flow coming in and out.
Features List:
CPU liquid cooler with radiator for low water temperatures and fast response

NZXT 

Graphics Card water cooling for fast and smooth gaming performance
GeForce GTX 1050Ti 4GB Graphics Card
Clean minimal NZXT Gaming Motherboard design
Patented cable routing kit with pre-installed channels and straps for intuitive and easy cable management
A 6 Core (12 Thread) i5 CPU with boost of up to 4.2ghz
Front USB-C Port, fully operational
USB 3.1 Type A and USB 3.1 Gen 2-compatible USB-C connectors on the front panel
A display port, HDMI and DVI slot on the GPU
1TB M.2 SSD for ultra fast loading games and quick response times in all working conditions
Removable radiator/fan mounting bracket for cleaning your system
Contains 6 

x USB 2.0

 / 2 x USB 3.1 / 2 x USB 3.0
Smarter Than Ever
The H510 features a removable radiator-mounting bracket, simple-to-use SSD trays and a patented cable-management system for a smarter, easier build experience. It contains removable dust filters from behind, underneath and above, which collects dust from fans so it doesn't go inside the system. This purifies the computer, keeping it fresh and in stable running condition. It is recommended to clean the filters under warm water every 2 to 4 weeks.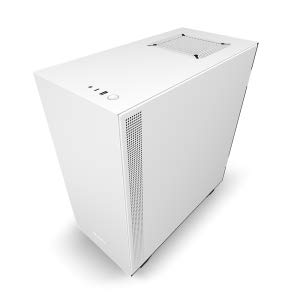 More Modern and Sophisticated
The USB 3.1 Gen 2-compatible USB-C connector on the front panel makes it easier than ever to connect smartphones, high-speed external storage and the latest peripherals to your PC. A fully functional USB-C connector making it fast for data transferring and fast download speeds. 
The Best Gaming PC Monitoring Software
Manage performance, temperatures, and devices all from a single application. NZXT CAM is fast, efficient, and easy-to-use, allowing you to control every aspect of your computer. Set your lights and fans to change whenever you launch one of our thousands of supported games. Match the colours of the game through syncing each game to your selected lighting setup, change your lights to respond to the in-game audio, or turn all of your lights off for a competitive edge. Customize the behaviour of your fans and lighting though smart scheduling for different times of day. Set your lights to slowly turn on as your day begins, your cooling devices to run at higher power in the heat of the afternoon, or for your lights to shut off automatically as a bedtime reminder. NZXT CAM empowers you to see what your computer is doing, from processor load to bandwidth consumption. track every aspect of your computer as it lets you know what applications are making use of every part of your machine. You can quickly track down any issues to ensure that you're getting the optimal performance out of your computer.
Highest Performing Gaming Water Cooler
The Kraken series features one of the most advanced controls to be included in an all-in-one liquid cooler. Through CAM's software interface, you can fine-tune settings to ensure an optimal performance for your system, even in the most intense gaming sessions. Customize the centre pump with RGB lighting through the CAM software for full control. Everything, including the pump, radiator, and the fans, have been redesigned to bring you one of the greatest experience in liquid cooling. This high performance liquid cooling with keep your graphics card at minimal temperature bringing fresh cool air into the radiator to insure your full gaming experience and keep the water temperatures low.
Master Your Control
The Kraken enables independent tuning for the fan and pump performance. Through CAM's intuitive designs and full software integration, the most precise and sophisticated controls can be made with ease. Tune the speed of each fan in your system and your radiator fans for processor and graphics card cooling. Control the speed of your pump for each of the two coolers in your system for the full gaming experience and smooth graphics for low minimised water temperatures. A 10% bigger LED ring allows for more vivid RGB. A rotatable top accommodates re-orienting the logo no matter what direction the cooler is installed. CAM provides sophisticated controls with an intuitive, user-friendly interface. Now with better sync for lighting across all NZXT RGB devices, full CAM integration allows you to manage your Kraken's performance with precision, making adjustments with the click of a button.
The Ultimate Full Water Cooling System
Add incredible colours and lighting to your CPU cooler with advanced RGB modes and an infinity mirror effect. Thanks to the intuitive CAM control panel, you can easily access sophisticated RGB controls, including customizable presets or reactive modes that respond to changes in system conditions, such as temperature or audio output.
Engineered for Performance
Kraken Series features a pump that is both quieter and capable of displacing more liquid than previous generations. The enhanced design the inside of each component achieves superior cooling with ultra efficiency while keeping acoustics to a minimum. Features a highly silent fan in your system, even at full revs will keep it quite and running fast and smoothly for fast work and gaming response.
The most Minimal and Stunning Gaming Motherboard
Designed around the intel Z490 chipset this stylish matte white motherboard delivers everything you need to showcase a powerful, aesthetically pleasing gaming battle-station. Featuring built-in Wi-Fi 6 connectivity, key features from the NZXT RGB and Fan Controller, allowing intuitive control of four RGB lighting channels and eight fan channels through CAM. With dual M.2 connectors and adaptive noise reduction technology to optimise your cooling/noise, and upgrade to extra storage for full maximised space in your gaming rig for all your favourite games.
Switch up your Smart RGB lighting
Preserve better control over your system with the innovative NZXT RGB & Fan controller. Built with an improved microprocessor, providing CAM-powered control of RGB lighting channels and fan channels. Create a stunning PC setup with NZXT, allowing users to mix and match any NZXT RGB LED accessories. the RGB and Fan Controller delivers an amazing array of RGB lighting effects, which can be synchronized across all NZXT RGB accessories. Using CAM's intuitive interface, you can easily choose from a wide variety of presets, smart, and custom modes to create the perfect look for your PC.
PEACE OF MIND 3 YEAR WARRANTY
When purchasing our computer you will get a 3 Years Warranty as standard, you have the peace of mind in knowing that there will be no cost involved should a problem occur with your hardware - you can simply box up the computer in its original packaging and our courier will call round on a working day convenient to you to collect the computer. We will then repair your computer and return it to you free of any carriage charges. (Software not including e.g. Windows 10 Operating System etc)
FOR FULL WARRANTY DETAILS & CONDITIONSB PLEASE CLICK HERE
Amazing
Quick setup. Games load super quick and look great. Love the LED lights and the option to change them or turn them off
Super
Runs as expected. When bought in sale it was good value.
Very Happy
Fantastic gaming pc... quality for money is good
Happy
Lovely staff to deal with very friendly and efficient
Returns & Refunds
We know that you will be pleased with your purchases from Gotek Ltd. However, there may be occasions when you will need to return items to us, so here's how to do it.
If you change your mind
Under the Distance Selling Regulations, you have the right to simply change your mind about any item ordered. In order to do so, you must inform us in writing of your decision within 14 days of receipt. The item must not be used and must be 'as new' when returned to us. Once you've informed us that you wish to return goods under the Distance Selling Regulations, you have 28 calendar days to return the goods, at your own expense. Once the item is received at our warehouse, we'll issue a full refund for the product to your original payment method.

Items Damaged in Transit
Any items damaged in transit must be reported to us within 48hrs of receipt. If the items are visibly damaged on receipt, sign the carrier's delivery note as 'DAMAGED'. Items should be returned in their original packaging, complete with all accessories and documentation. Once received back into our warehouse, we'll issue a replacement or full refund to you via your original payment method and reimburse reasonable return carriage costs.

Items Faulty on Arrival
If your items are faulty on arrival, you have 14 calendar days in which to inform us of the fault. Items should be returned in their original packaging complete with all accessories and documentation. Once we have verified the fault, we'll issue a replacement or full refund to you via your original payment method and reimburse your reasonable return carriage costs. We test returned items, and if a returned item is found not to be faulty by our technicians we will return the item to you, in this instance you will be liable for the return carriage.

Items Faulty within Warranty Period
If any of your purchases develop a fault, and it's more than 30 days since receipt, then provided your item is still within its warranty period, you are entitled to a warranty repair. Some manufacturers provide a direct warranty service for your convenience which we recommend you use in order to correct the fault quickly.

Need to return an item?
All returns need to be authorised by Gotek Ltd, you can request a return via email using the Contact Us page above. Please include a full description of any fault, or the reason you wish to return the item, along with your order of invoice number.
PEACE OF MIND 3 YEAR WARRANTY
When purchasing our computer you will get a 3 Years Warranty as standard, you have the peace of mind in knowing that there will be no cost involved should a problem occur with your hardware - you can simply box up the computer in its original packaging and our courier will call round on a working day convenient to you to collect the computer. We will then repair your computer and return it to you free of any carriage charges. (Software not including e.g. Windows 10 Operating System etc)


WARRANTY EXCLUSIONS
Operating Systems including third party software
Accidental Damage.
General wear and tear, misuse, neglect or damage by the buyer.
Incorrectly installed goods.
Overheating due to excessive dirt/dust build up.
Consumables (Ink Cartridges, batteries, etc).
Data Recovery & Backing up of data, files and programmes.
Remedy of incorrectly installed/incompatible software which is not provided
Remedy of viruses.
Compatibility of 3rd party software/hardware.
NOTICE:
If we find the computer to be damaged by the software and not the hardware, we still will fix this for you (ALL DATA WILL BE LOST), but this will involve a labour charge of £59.99 plus the delivery charge of £14.99. But of course we will confirm this with you in advance.